In 2011, Ethel Koger Beckham Elementary was awarded the National Blue Ribbon Schools Award by the Florida Department of Education based on our students' academic achievements. Additionally, our school was recognized by the Florida Department of Education with the Florida Title I Distinguished Schools Award which recognizes Title I schools that have made the greatest progress in sustaining high levels of academic achievement and for closing the achievement gap for students in the No Child Left Behind subgroups. Most recently in 2013, Ethel Koger Beckham Elementary was awarded The Exceeding Expectations Award by the East Coast Technical Assistance Center for Title I schools which are exceeding expectations and/or showing great progress in improving student achievement in the areas of Reading and Mathematics.
2011 National Blue Ribbon School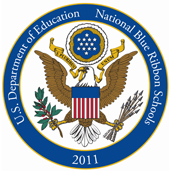 The Blue Ribbon Schools Program honors public and private elementary, middle and high schools that are either academically superior or have made dramatic gains in student achievement to high levels, especially among disadvantaged students. The program is part of a larger Department of Education effort to identify and disseminate knowledge about best school leadership and teaching practices. Each year since 1982, the U.S. Department of Education has sought out schools where students attain and maintain high academic goals. Using standards of excellence evidenced by student achievement measures and the characteristics known from research to exemplify school quality, the Department celebrates schools, including those that beat the odds. For many schools, attaining the Blue Ribbon School award and recognition is a realization of a long-held dream. There is much excitement in the school community and the local media eagerly profiles schools that have attained the recognition. The schools are honored at an awards ceremony in Washington, DC, where each Blue Ribbon School receives a plaque and flag to signify its Blue Ribbon School status. These schools serve as models for other schools throughout the nation and details of their achievements are shared on the U.S. Department of Education's website.
2011 National Title 1 Distinguished Schools Award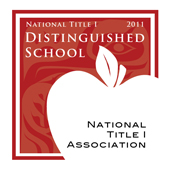 The National Title I Association has been selecting examples of superior Title I school programs for national recognition through the National Title I Distinguished Schools program since 1996.
Selected schools must qualify for one of the following categories:  Category 1: Exceptional student performance for two or more consecutive years.  Category 2: These schools demonstrate a wide array of strengths, including team approaches to teaching and learning, focused professional development opportunities for staff, individualized programs for student success and strong partnerships between the school, parents and the community.  What makes National Title I Distinguished Schools' stories especially powerful are the documented student achievement gains that have resulted from their innovations.
2013 ECTAC Award
In 2012, East Coast Technical Assistance Center launched the Exceeding Expectations (E2 ) Project . From a database of all schools in the State, an ECTAC data analysis team identifies Title I schools that are exceeding expectations by showing significant progress in improving student achievement.
These schools are then visited by a team of ECTAC members for interviews and classroom observations. After careful  review of a combination of criteria consisting of 2013 FCAT scores and  observations and interviews that occurred during our site visits, school are identified as either a Finalist, or Award School.